RECYCLING - pyrolysis plant
Main
| RECYCLING - pyrolysis plant
Pyrolysis process
Since 2015 our company has been designing and manufacturing pyrolysis plants T-PU1 to recycle various types of carbonaceous industrial waste materials of 2-5 hazard categories by thermal decomposition (low-temperature pyrolysis at 600 degrees celsuis)
PYROLYSIS PLANTS T-PU1 CAN RECYCLE THE FOLLOWING MATERIALS
- Tires, rubber waste
- Oil sludge
- Polyethylene plastics waste, plastic materials, packing materials
- Synthetic and mineral oils
- Paint-and-varnish waste
- Residual oil
- Roofing felt
- Wood waste, railway sleeper
- Medical waste
- Oil/fuel contaminated fabric and materials
- Contaminated municipal solid waste
As a result of pyrolysis process we receive stove oil and carbon black
The most important advantage of the stove oil generated in T-PU1 pyrolysis plants is its high burning index and low sulfur content which makes this stove oil to be highly competitive in the market. By means of the constant refinement process the stove oil can be clarified as per customer's request.
Our stove oil can be used for:
- Burning in industrial furnaces and boilers including those of foreign production
- Burning in heat generators
- To heat the non-gas houses and buildings
- To provide operation of asphalt plants
-To provide operation of drying units at agro-industry
-For production of marine fuel, diesel fuel and gasoline
OUR INNOVATIONS IN DESIGN AND PRODUCTION OF PYROLYSIS PLANTS
Pyrolysis plant T—PU1 is an advanced and improved model. Preproduction testing time took 4 years of constant testing, use and development at our own salvaging department on more than a hundred types of waste. Our plants are of optimal geometry, cost effective, portable, highly competitive and made of the best high quality materials. An innovative module for water shut-off Is added to the layout of the plant.
For the most effective and convenient operation there is an additional module — Retort Tipping Device is developed. In cooperation with one of the leading manufacturers of chemical processing equipment there is a gas-holder device developed to be used with 4 pyrolysis plants to collect and distribute pyrolysis gas from several plants to provide continuous service of the plant without any additional fuel and also gives an opportunity to automate an operation process of the plants and exclude flare system groups that burn gas surplus.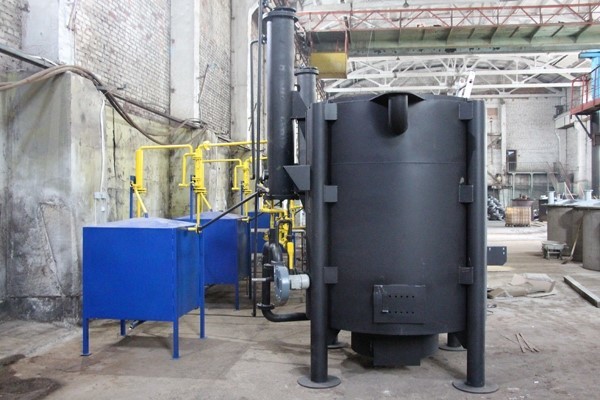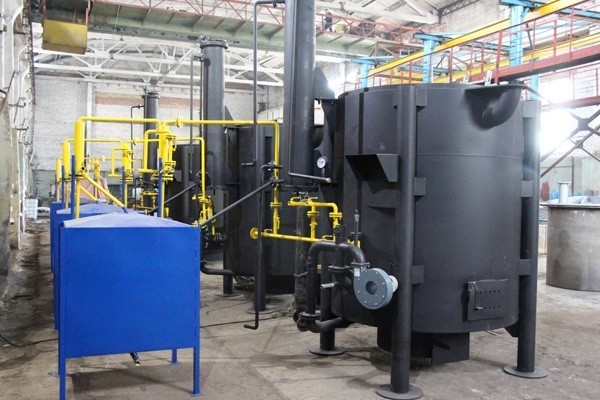 Starting 2018 with @ new improved retort: of spherical shape is launched into production. It is made of 8mm thick Ni-Cr titaniferous stainless heat-resistant steel (bears up to 900 degrees Celsius) type 12X'18H10T. The design of the retort provides maximum leak tightness and reduces dramatically the chance of retort's body deformation and increases worklife of the retort.
ADVANTAGES OF OUR PYROLYSIS PLANTS T-PU1
- The output of pyrolysis process are saleable materials — stove oil (up to 80%) and black carbon.
- Power consumption of the pyrolysis plant is just 1,1kWt, the process is kept by the pyrolysis gas of its own production
-The pyrolysis plant is not that particular about waste materials type and can proceed mixed waste. Low- temperature pyrolysis process provides easy waste recycling without waste pretreatment such as sorting, shredding and drying
- The pyrolysis plant is easy to operate and maintain and do not require highly trained staff. A worker with a helper can operate 3-4 plants.
- An optimized size of the furnace and retort (height decreased and diameter increased) brings much to ultimate heating of materials at the least time, simplifies maintenance and lets the plants to be placed into low roof buildings, transport costs are lower due to the vertical shipment of the furnaces and retorts.
- An improved leakage-proof retort of spherical shape made of 8mm thick Ni-Cr titaniferous stainless heat resistant steel (up to 900 degrees Celsius) type 12X118H10T.
- Furnace lining is made with firebricks.
- The sanitary protection area approved by State Environmental Expert Review is just 100 meters.
- The plants can be aggregated into the working line to improve total efficiency.
- It is cost-effective to operate pyrolysis plants T-PU1 in pairs under the pendulum principle as being operated simultaneously in opposite phases the surplus gas generated by one plant can be used in the second one to start pyrolysis process and vice versa. As a result no additional combustible is needed to start the plants and surplus gasflaringis avoided.
If operation line includes 4 or more plants T-PU1 there is an opportunity to use a gas-holder unit to automate collectionand distribution of pyrolysis gas.
Lead time apprx. is 45 business day if not in stock. Price of the pyrolysis plant T-PU1 (including a retort) is 55'000 USD.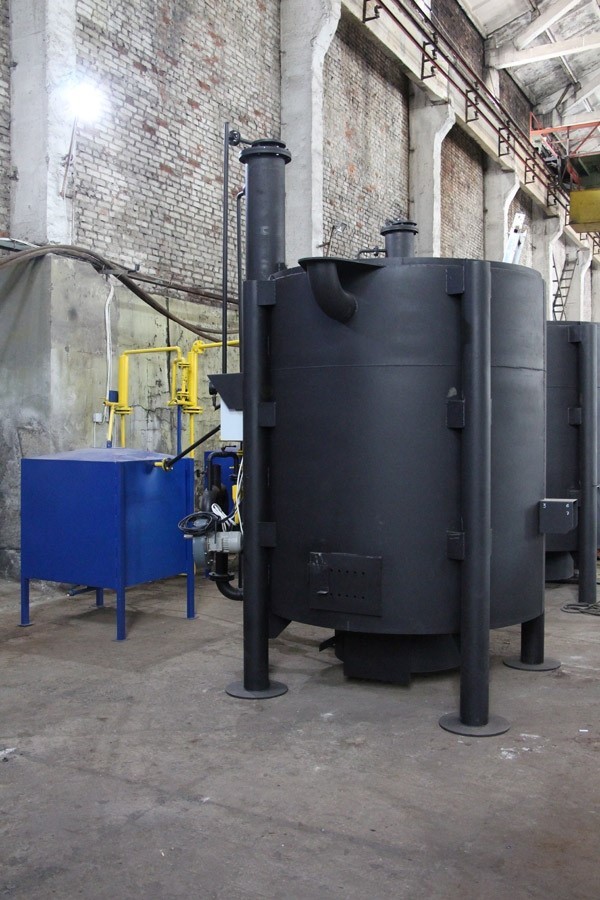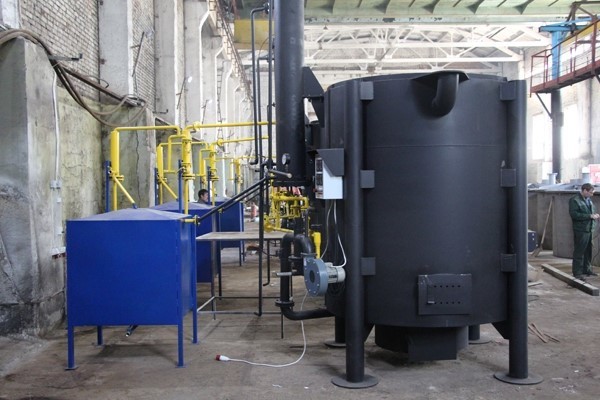 MAIN TECHNICAL DATA
| | | |
| --- | --- | --- |
| Loading chamber volume max., cubic meter | | 2,08 |
| Power, kWt | | 1,1 |
| Nominal voltage, V | | 380 |
| Rated AC frequency, Hz | | 50 |
| Gross weight of the plant including a retort, kg | | 5415 |
| Dimensions of the plant without pipes (H x W x L), m | | 2,6 x 2,6 x 1,9 |
| Mounting area dimensions (L x W x H), m | | 4,9x4,0x5,0 |
| Average performance per 24hours (depending on load and waste type) cubic meters | | 5-6 |
PERSONAL APPROACH TO EACH OF OUR CUSTOMERS
Our specialists will carry out examination and technical expertise and work out the best concept of waste recycling appropriate for your company with the use of T-PU1 plants. The deal will be accompanied with presentation of all legal documentation and permits of State Ecological Appraisal.
The deal is made on ready-to-operate basis including training of staff. For the detailed information about pyrolysis process and pyrolysis plants T-PU please refer our web-site: https:/ / www.tsavto.com/en/services/ recycling
You are welcome to visit our Waste Recycling Department to see the process and its results with your own eyes. We have been testing and improving our equipment for more than 5 years already and have a good experience of operating the pyrolysis plants of our production and use them for waste recycling in our own production site. We are ready to share our experience with your esteemed company!
House 6, Nartova str., Nizhny Novogorod
the Russian Federation. 603104
tel. +7 831 429-02-22
Permit Documents